Operating a farm or ranch in Texas is hard work—it takes a lot of time and effort to keep everything running smoothly. It also means managing a budget smartly. Most farm and ranch costs are necessary, unavoidable expenses. You can't run your operation without feed, fuel, fertilizers, and seeds.
But the higher your cost of operations is, the lower your earnings are.
It makes sense to cut expenses where you can, so you can reinvest your savings and start scaling your processes. When it comes to feed, one simple, effective way to scale and save is to buy bulk feed or bagged feed by the ton to get volume discounts!
Below, we look at some of the benefits of buying feed in bulk.
Buying Bulk Feed Saves You Money
Saving money is the most obvious reason to buy feed in bulk or by the ton, in bags. Volume discounts mean guaranteed savings.
Think about how much less it costs to buy a package of 24 water bottles instead of buying 24 water bottles individually. Buying in bulk costs much less. (And it's less of a hassle, since you'll always have water on hand when you need it.)
Volume discounts apply to animal and livestock feed, too. You save money by buying more. After all, every ranch or farm needs a near-constant supply of feed. So why wouldn't you want to take advantage of buying feed in larger quantities to save money? It just makes sense.
Buying in Bulk Saves Time …
Saving money is great, but, as they say, "time is money." Buying feed in larger quantities also saves you time. It's not just saved trips to the feed store. You'll also spend less time monitoring your feed, worrying about when you'll run out, checking prices, and driving back and forth to town. Purchasing your feed in bulk or bagged by the ton eliminates a lot of effort.
Buying feed this way lets you put this part of your business on "autopilot." Spend your extra time focusing on other things, such as expansion and more time with your family. You'll have one less thing to worry about. Doesn't that sound nice?
… and Helps You Budget
If you're not already buying in bulk or by the ton, your feed expenses might vary from month to month, so you have to fine-tune the quantity of feed needed continuously.
However, when buying in bulk or by the ton, you'll know exactly how much feed you'll be getting every month, and it will be exactly what you need to meet your livestock's nutritional needs. You'll also know in advance your monthly expenditure on this area of your business. This helps you budget and get a clearer picture of your overall expenses, letting you make smart use of your money.
This brings us to our next point…
Grow Your Business
Maintaining a business requires time and money, but so does growing it. The more time and money you can save, the greater your ability to not only keep your business going but to help it grow.
Here at West Feeds we want to help you grow your business. We believe that investing in bulk feed or buying it by the ton is one of the simplest, most effective ways to do this.
Bulk Feed Options to You Save Money and Time
We have two options at West Feeds—bulk feed delivery and buying bagged feed by the ton.
We run a bulk feed delivery service for select feeds. Deliveries can come straight from our manufacturing headquarters to your farm or ranch if you're purchasing a minimum of 18 to 22 tons. (Minimum purchase requirements are based on your location.) We serve a large portion of Texas—approximately a 250-mile radius from our Central Texas headquarters, located in West, Texas. Our professional drivers will make sure your bulk feed tanks are filled on time. We deliver feed year-round across Texas, from sunup till sundown and every hour in between.

Alternatively, you can also choose to pick up your feed in bags by the ton from our headquarters in West. You'll start saving money on every bag of feed after purchasing just 40 bags (one ton). The more you buy, the more you save, as our tonnage discounts increase depending on how much feed you're purchasing. If you choose this option, contact us in advance to schedule a pickup.
Why Choose West Feeds?
For over 40 years, Texans have relied on West Feeds to drive down costs and maximize productivity. 
We cut out the middleman, ensuring you always have fresh, high-quality feed at the very best price. You'll always get products that have been manufactured by us, directly from us.
West Feeds offers a wide variety of feed types. We manufacture and sell everything from cattle feed to deer feed and horse feed, all carefully formulated to help ensure improved health and performance for your animals.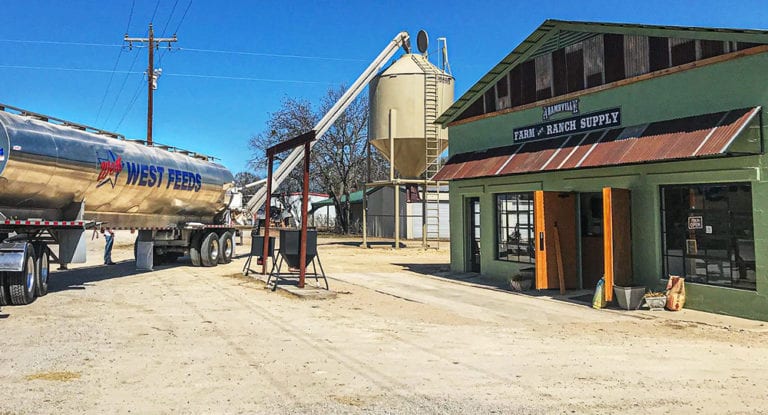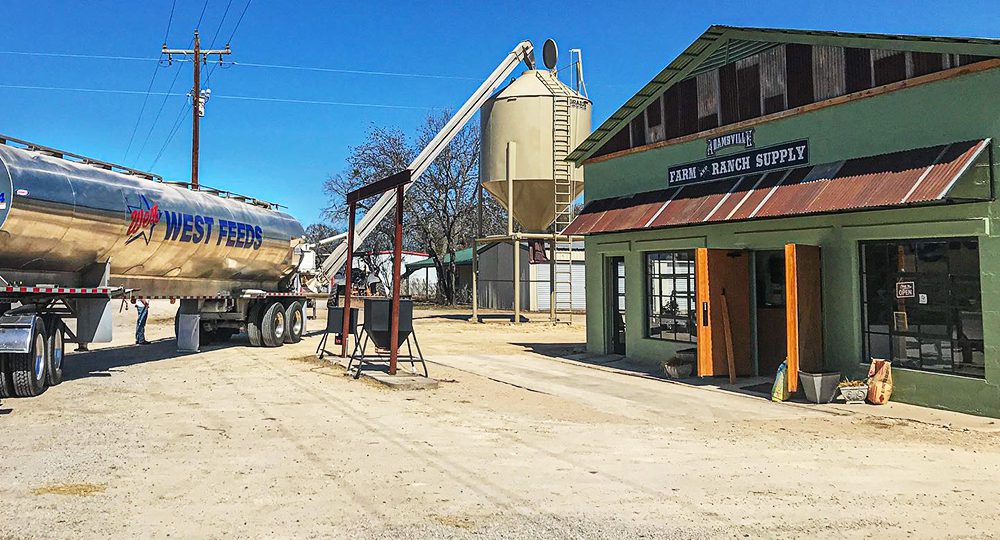 Contact Us Today
If you're convinced buying feed in bulk or by the ton is a good option for your farm or ranch, please feel free to visit our bulk feed and services page for more information or to contact us with your questions. We will work with you to determine precisely what type of feed you need, how much you need per delivery, on what schedule you need it, and then work out the best way to get it to you.